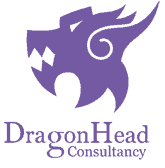 Dragonhead Consultancy Ltd was founded in 2007 and specialise in providing professional expertise built on the ethos of delivering the right solution for the customer, which has allowed DHC to enjoy repeat business with its clients.
We strive to build solutions, teams, processes and procedures which are scalable, manageable and meet our Client's needs, and will continue delivering long after the initial project has been completed; resulting in long-lasting fruitful relationships between us and our Clients.
Steve, our MD, is passionate about the provision of a first class service to our clients. He has created a philosophy of providing Dragonhead Consultancy clients with experienced professionals who consistently and constantly deliver adding value to our client's needs.
This philosophy goes beyond the workplace and as an organisation we support our employees in helping both the communities in which we work and live, whether that be as a volunteer within a professional body, or as a School Governor. See below for how Dragonhead and our great team are working to support our communities.
Dunkinfield Town and youth FC are affiliated to Cheshire FA and have over 30 teams plus a successful Soccer School every Saturday morning. The senior section all play within the Manchester Football League and all junior teams play in either Tameside Football League or the East Manchester Junior Football League.
Dunkinfield Town A had a tough year and came in overall 8th in the Division 4 league out of 13 teams with 9 wins. The under 12's Greens were confirmed League Champions in the EMJFL Division 6 and the under 16's Blacks have been confirmed as Tameside League Champions on what was to be there last league game of the season.
We are pleased that Dunkinfield Town have been selected through Cheshire FA to become a SSE Wildcats centre to promote girls football in the area.